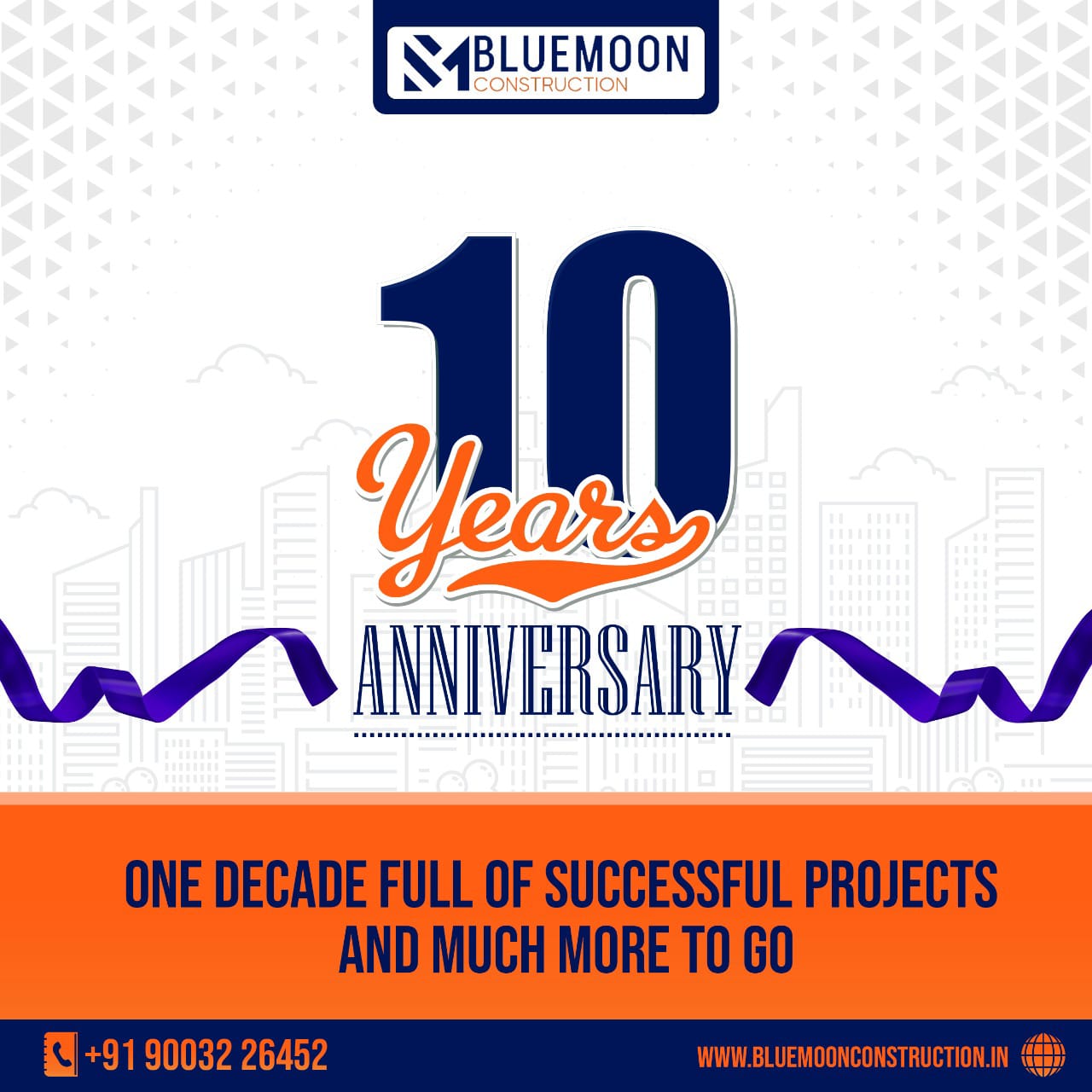 10th Anniversary
Hello Everyone,
Hope you all are safe and sound!
Every start-up has a unique story on its own, where how they struggle to build a company from scratch. As a Managing Director of Blue moon construction, I am so astonished to see ourselves crossing one decade with great heights. I have started this company in 2011 as a solopreneur but today I have more than 70+ employees and I have completed 46 Great projects so far which include Villas, flats, Individual houses, and commercial buildings. I have faced so many obstacles throughout my journey and I overcome each obstacle with hard work and dedication. Now that I have been surrounded by positive people in my team who are ready to work 24/7 and make this company even bigger. As a construction company, we have struggled a lot in many places and as an Owner, I have corrected everything and running my business in a very smoother way. In the current scenario, after the covid occurrence in the entire nation, we have planned to give our best, we are offering our starting price of RS.1799/ Sq.ft which contains high-quality materials and high-end specifications everyone can afford and make their dream home with us to make things comfortable for the people who wanted to build their dream house.
As we launch this offer in our digital platform we get lots of enquiries as usual and also we have started 8+ projects in the last 6 months. After covid, we came up with very positive thoughts and our ultimate aim to fulfil our customer's dream home at an affordable cost. Some of our enquiries are saying that RS.1799/ Sq.ft is a little high when compared to other contractors. In the current situation if any contractor does less than 1799 either he would hide something from the client or he reduces the material for the site work. As a reputed company, we guaranteed that no one can't do construction with this price, we educate this to so many clients some may understand some cannot.
It's time to say thank you to everyone who made this journey possible and also my employees who could work 24/7 to our site and make an on-time delivery every single projects that we take over, without you all this one decade would not have been possible and also we expand our network across Tamilnadu and I am sure we can help lot more people to fulfil their dream at affordable cost. We always believe in the client, not on money, a referral from our clients is taken a big leap for us if our clients are satisfied they can surely refer us to their relatives or their friend's projects.
Thank you and be safe.
See you in my Next interesting Blog☺